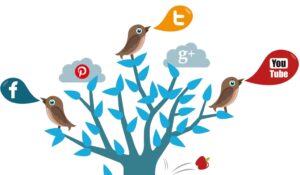 Social media is about stories. Stories of personal endeavours. Stories of brands how they make inroads in to people's lives. Stories of how the state's affairs are being run. Stories of what's going on in the world and how. Stories of a mum how she spends her day with her kids. Stories of all sorts. Stories of all types.
If you're not a good storyteller, don't expect to do wonders in the world of social media. A world that not only craves stories but actually thrives on them.
You've got to create that hook right at the beginning for your reader in the social world that makes him stick to your content right the way through. How do you do that? Let us explain.
People already have an opinion about your brand or business based on the content and marketing efforts you created in the past. It sticks in their heads. They create your image in their mind. Brand positioning, to be précised. Know how you're perceived by your audience well in advance before you start throwing content in the social media. If you know what your target audience knows about your brand, you know how to make them know better, if you know what we mean.
Do NOT ignore what your business stands for ethically i.e. you core values. Whatever story you create to effectively tell what your business is all about, make sure it tags along your core values. If it doesn't then you'll be hitting a tangent that makes your story take a turn that you did not want it to.
Do you wish to cement your brand's position in your customers' heart? Are you looking to get your name registered in the mind of new audience? Ask these fundamental questions to help plot your story more effectively. Your purpose should be absolutely clear for the purpose of creating hot leads through effective storytelling.
Would you play on a news piece if your audience were full of punk rockers? No, you obviously wouldn't. Know your audience, that's the moral of the story. If you know what they're in to then you'd be able to get them in to what you want them to step in.
Would you share your story with your social media acquaintances purely on merit? If you answer this in 'yes' then you're on the right path. It's about your story's worth. If you personally don't feel you can share it with your friends and family because you think it's not quality enough then you know your story's worth is not as great as it could've been.
Keep these factors in mind, devise a story worth spreading and voilà!