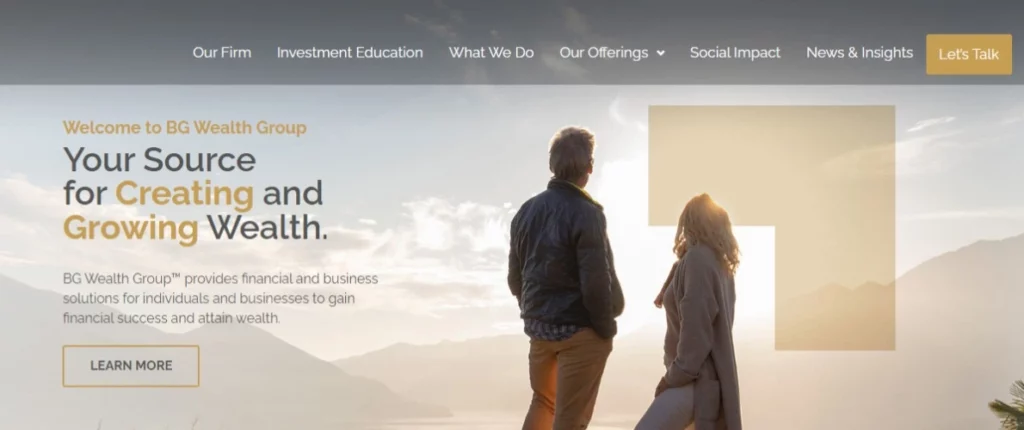 Client Info:
BG Wealth Group is a prominent financial and business solutions provider located in Toronto, Ontario. They approached SOLSNET with specific challenges, including limited social media presence, outdated corporate websites needing major upgrades in branding and content, and the need for a complete overhaul of their social media presence, especially on LinkedIn.
Scope of Work:
SOLSNET provided a comprehensive range of services and strategies to address these challenges. They created an effective marketing strategy with a focus on social media and optimized and managed social media accounts on Instagram, Facebook, and LinkedIn. A content calendar was developed, and SOLSNET created and managed email marketing campaigns. They also overhauled BG Wealth Group's website, fixing errors and optimizing it for mobile devices. Weekly reporting, creation of landing pages, running Google and social media ad campaigns, and offering continuous support were all part of the scope of work.
Results and Metrics:
After collaborating with BG Wealth Group for over 2 years, SOLSNET has become their trusted agency for all web-related needs. The results speak for themselves, with BG Wealth Group now enjoying an active social media and web presence. They have experienced a significant increase in audience reach, leading to wider exposure to their target audience.
135% Increase in Site Users
147% Increase in Organic Site Users
886% Increase in Organic Social Media Reach
50% Increase in Engagement Rate
Client Testimonials:
BG Wealth Group has shared their experience working with SOLSNET, stating, "SOLSNET has been a game changer for us. Their social media expertise, unique content, and website upkeep have improved our online profile. They are a hardworking, results-oriented group."
Summary:
The partnership between SOLSNET and BG Wealth Group has resulted in a remarkable transformation of BG Wealth Group's online presence. From a limited social media presence and outdated websites, BG Wealth Group now stands as a thriving entity in the digital landscape. This case study showcases how SOLSNET's expertise in social media, content, web development, and marketing strategy has propelled BG Wealth Group to new heights in the financial consulting industry.