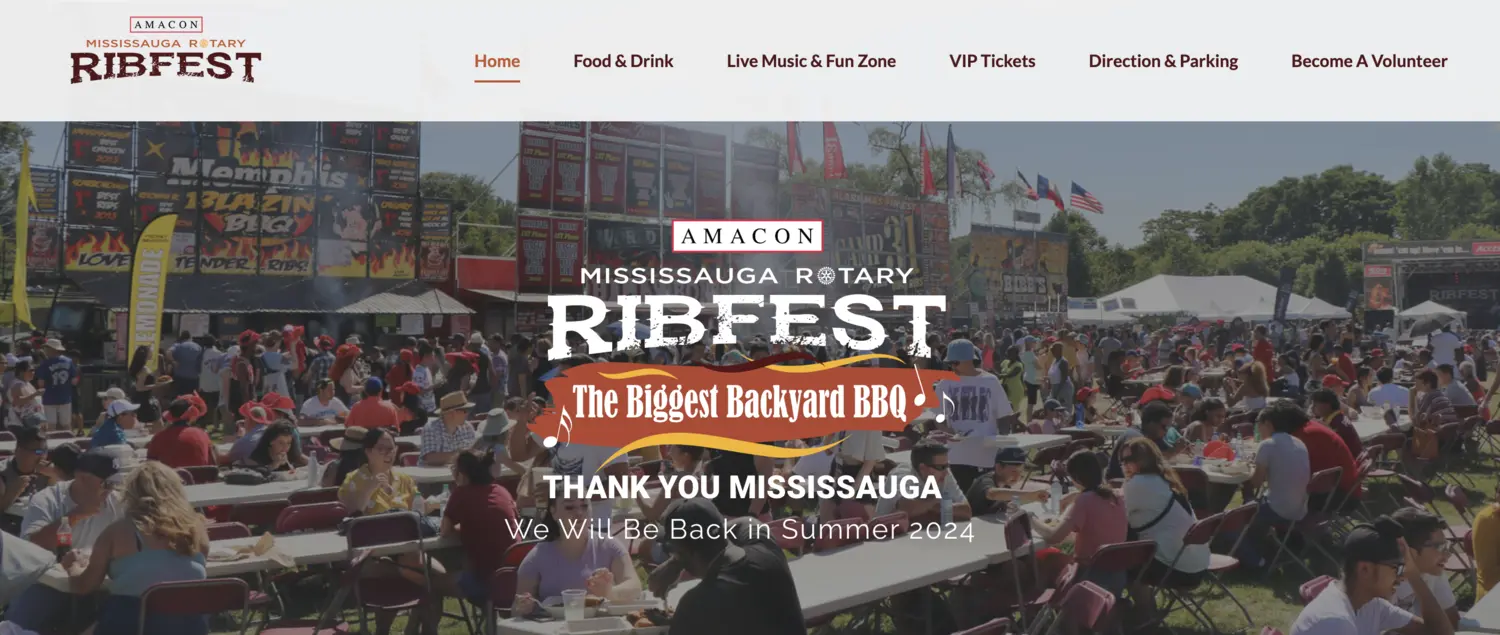 Client Details:
Client: Rotary Mississauga RibFest
Event: Mississauga's Largest Outdoor Ribs Festival for Charity
Location: Mississauga, Ontario
Website: https://ribfestmississauga.com/
Instagram: https://www.instagram.com/mississauga_ribfest/
Facebook: https://www.facebook.com/MississaugaRibfest/
Background Information:
SOLSNET partnered with Rotary Mississauga RibFest, the largest outdoor Ribs Festival in Mississauga, to breathe new life into their event through digital marketing. Faced with challenges such as weak digital presence and the need to reintroduce their in-person event post-COVID, our agency took on the task of revamping their website, strategizing, and executing a dynamic digital campaign. Results were impressive, with thousands of clicks, social media engagement, and increased event attendance. The campaign not only reinvigorated the event but also raised over $70,000 for charitable causes. The successful collaboration highlighted SOLSNET's expertise in event revival through innovative digital strategies and influencer marketing.

Specific Challenges and Goals:
After a hiatus due to COVID-19, the client aimed to host a successful in-person event.
They needed to reach a broader audience to raise awareness and encourage attendance.
Their digital presence was weak, with an outdated website and limited social media activity.
The client faced challenges with content creation and marketing strategy.
Traditional marketing methods were costly with no visible return on investment.
Scope of Work:
Developed and updated a new website.
Gathered content from various stakeholders, creating engaging visuals and content.
Revamped and managed social media accounts with a strategic approach.
Designed and executed Google and social media advertising campaigns.
Implemented a comprehensive social media marketing strategy.
Engaged social media influencers to promote the event.
Regularly updated the website with fresh content.
Created graphics and written content.
Managed PR submissions.
Generated content during the event.
Implementation Details:
The project commenced eight weeks before the event and concluded two weeks after. It involved planning, strategy creation, content development, and execution. Ad and social media campaigns started five weeks prior to the event, including giveaway campaigns.
Results and Metrics:
Google Ad Campaign: 10.7K clicks and 125K impressions.
Facebook & Instagram Campaign: Reached 61K people and gained 150K impressions.
Facebook & Instagram Posts: Attracted 11K Facebook visits and 3K Instagram visits.
Social Media Growth: Increased Facebook likes/followers by 100% and Instagram by 1.7k%.
Impact:
The digital marketing campaign significantly contributed to the event's success. Over 35,000 people attended the festival in just three days, resulting in a net profit of over $70,000. These funds were dedicated to supporting community projects such as the Mississauga Food Bank and Trillium Health Partners.
Our client was delighted with the team's efforts in executing the digital campaign, which played a pivotal role in the event's triumph.
Despite minimal initial information and a tight timeline, our agency successfully executed and completed the project, exceeding the client's expectations in achieving desired results.
The project underscored the importance of a robust digital marketing strategy and the potential impact of influencers in promoting events.
The collaboration with Rotary Mississauga RibFest showcased our agency's ability to revive and invigorate events through digital marketing. We not only met but exceeded the client's expectations, resulting in a remarkable community event.
Do you need help with reaching your target audience?
If you're seeking innovative digital marketing solutions, contact our agency today to discuss your marketing needs.