How all major marketing efforts of today have shifted their focus to digital would be stating the obvious. Lower costs, higher ROI, superior transparency, deeper insights, and actionable analytics are just some of the many reasons why businesses are now spending on digital marketing with complete confidence. Regardless of their type or magnitude, enterprises are investing heavily into a diverse range of digital marketing channels with full knowledge of the expected outcomes.
Ask any millennial advertising professional and they'll tell you how shocking it is to see marketing transform into something so effective and transparent over the past decade. And it's very true without a doubt; we're way past the age of TV, newspapers, and radio. Today, we live in a world that's connected 24/7 and all our entertainment and information content needs are met by nearly all digital devices that we use, from TVs to laptops, and smartphones to wearables.
Naturally, conventional marketing had to fade away from the conventional media, giving way to more interactive and target-oriented marketing mixes. The complex yet simple digital marketing mix of today makes the goals of businesses achievable. With a low cost, high ROI, and ad spend that you're in complete control of, digital marketing presents a solution no other type of marketing can. And with constant evolution, it's only becoming smarter and more powerful.
The High Potential of Digital Marketing
The only way digital marketing is projected to go in the future is up. This holds especially true in the post-pandemic world where COVID's overarching effects caused to accelerate digital transformation across the economy and society. With a major digital shift, a steep spike in retail sales transacted digitally was recorded; with it, digital ad spending also peaked to new heights further brightening the long-term prospects of digital marketing.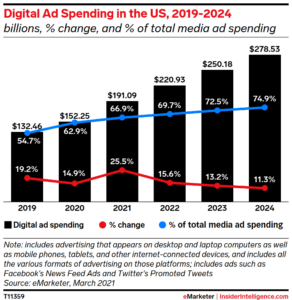 In the US alone, the digital ad spending projections are quite heartening. The ad spends that was $132 billion in 2019 (about 55% of total media ad spending) is projected to reach about $279 billion by 2024, capturing about 75% of the total ad spend. The year-on-year growth projections are also consistent and healthy, showing the remarkable potential of digital marketing. In short, the future looks indisputably bright for the domain, and that's only because it gives businesses what they want out of their ad budgets.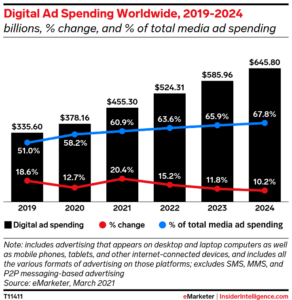 The outlook of international spending in the digital advertising segment isn't any different either. The spending that was over $335 billion in 2019 (about 51% of the total media ad spending) is projected to almost double by 2024 to about $645 billion (68% of the total media ad spending share). The numbers speak volumes of the massive potential of digital marketing that will only grow as years go by. This also brings more hope for businesses whose ad spends are being slashed in today's tough business climate.
Moreover, according to a Magna report, the ad revenues in the US are forecast to $240 billion in 2021. "For the first time, digital ad formats are expected to account for two-thirds (67%) of total ad sales as most channels and formats stabilize or grow in 2021. The improved forecast points to how the ad market has recovered faster from 2020's pullback than following the Great Recession," says the report.
Why Your Business Needs Digital Marketing Experts
Digital marketing is a very complex thing. It's not one thing, but a multifaceted mix of dozens of marketing methods undertaken digitally. From content marketing to search engine marketing, display advertising to mobile marketing, social media and email marketing to affiliate and influencer marketing, and video to audio marketing, there's so much to explore and get the advantage of. Based on your marketing goals, you can use any one or a mix of these channels.
But if you're a small- or medium-sized business with a lean setup, chances are you don't have the time, energies, or expertise to get full advantage of digital marketing. Each digital marketing type requires a completely different set of skills to master which isn't humanly possible, especially when you have a business to take care of. So, as do many big and small businesses, you too can hire a professional agency to oversee and manage all your digital marketing needs.
Having experts for each marketing type in its team, a professional digital marketing agency will take the burden off your shoulders and tailor results-driven digital marketing campaigns for you. They will take care of all marketing initiatives end-to-end, putting your ad spend to the best use and yielding optimal results out of these marketing initiatives. And the beauty of digital marketing is that impressions are made whether or not the desired action is taken which is basically free marketing of your brand.
Reasons Why You Should Hire A Digital Marketing Agency
In essence, hiring a digital marketing agency will free you of the hassle and worry, boost your digital presence, bring in more business, while allowing you more freedom to take crucial and timely business decisions based on true market insights. A great thing about digital marketing is that even if it doesn't work out for you, it still gives you some vital and actionable market insights you can confidently base your future business decisions on.
There are many reasons why you should hire a digital marketing agency to put your ad spend to good and fruitful use. Here are some of the key advantages:
Less Investment On Resources
When you have a digital marketing agency working for you, you don't have to hire or retain in-house marketers. Besides saving on human resources, you'll also be having fewer desks, computers, and even office space. Although the agency can charge you for their travel time or mileage if they have to visit your office, using any of the countless video conferencing solutions readily available today will help you save those overhead costs too.
Wide Range Of Skills
When you're managing a business, you have little time or energy left to devise marketing strategies and run your own marketing campaigns. Plus, it's tough (read impossible) for you to be equipped with all the digital marketing expertise, or hire a large in-house team for that matter. An agency, on the other hand, will offer you, experts, for all digital marketing fronts who will take care of your campaigns and help you materialize your digital marketing goals.
A Vast experience
A professional digital marketing agency will come with vast experience in a diversified range of business domains, including yours. With their wealth of knowledge, they'll offer you a strategy that's based on deep market insights that could be new to you too. Plus, knowing the ins and outs of the entire digital marketing mix, they'll be in a position to recommend you the best ways to approach your goals in the short as well as long term.
On Top Of Current Trends
An agency, working for many clients like you at any given time is well aware of the latest trends in respective markets. So, a proposition which you might find hard wrapping your head around could just turn out to be a goldmine. Only a digital agency can give you such deep insights into the current trends in your industry which will be impossible to find on your own. Staying on top of trends will always help you keep an edge over the competition and stay relevant.

How To Choose The Right Digital Agency For Your Business
It's not easy to navigate the world of digital marketing agencies. Especially for business owners whose time is already spread thin, browsing through agencies can become an ugly and quite unwanted undertaking. And with more agencies mushrooming across the globe, it's only becoming tougher to make the right call when it comes to choosing the right partner for your digital marketing needs. But it's a crucial decision for your business and you must invest some time into it.
Finding the right digital partner will help your business grow and accomplish your marketing goals. Here are some tips on how you can pick the right digital marketing agency.
Know Your Goals And Budget
Digital marketing is a complex mix of various marketing channels. Some businesses would focus just on one channel while others would go for a mix of multiple channels. Before you go out searching for the right digital partner, you have to be clear about your own marketing needs first. What are your goals in terms of the website, search engine optimization (SEO), advertising, social media, or graphic design, etc.? Be sure about that before seeking the services of a digital marketing agency.
Look For A Credible Name
The credibility of a digital marketing agency is very important. An agency whose own repute is questionable will hardly do your business any good. Besides, user reviews and feedback are hardly untrue so pay heed to that too. Although it's only natural for different clients to have a different experience of the same agency, a collective reputation will help you gauge the agency you're interested in better. A simple Google search will also reveal how the agency is perceived in the market.
Older Is Not Always Better
So there's an agency working in the domain for a decade, and then there's a new agency with a fresh team. While the prior has gained the market knowledge with years of experience, the latter has younger minds with a more advanced skill set and a better understanding of the current market and trends. It can be a tough call but the safe option could be to go with the tried and tested one. But an unpopular decision (going with the new one) could bring a very pleasant surprise for your business too.
A Realistic Approach
A digital marketing agency worth it's salt won't make outlandish promises it can't keep. Its focus will not be winning just another client and overpromise, but rather put a very transparent picture before you with a clear idea of expectations and expenditure. This transparent approach will also help you manage your expectations and look forward to results that are real-world but progressive. But it won't mean that your goals will not be met; they will just be more realistically strategized.