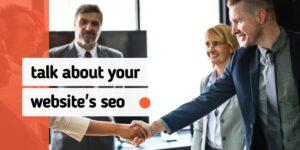 Finding people who are "professionals" to discuss the optimization of your website with is usually not a problem. However, making a good choice and picking the expert who would really help can be a daunting task. There are experts from across the world who are quite knowledgeable and, of course, who send email pitches to you regularly.
Sometimes, you just want to take the task up and DIY (do-it-yourself) but are afraid you may not get the desired result. Really, this can prove to be exhausting.
So, really, who should you talk to about your website SEO?
It's simple! Get the help of a professional.
However, before employing the services of a professional, it's important that you have an open mind and be ready to listen to advise and make good use of it. That way, it will be easy for you to accept advise, work on it and get good results. A professional SEO expert will be sure to make recommendations.
Then, you should ask your SEO experts for samples. Study the emails that you have received and pick out about five that you can work with, then ask them to see their portfolio. Of course, you can ask colleagues to recommend SEO experts who they have worked within the past.
Now you can proceed to have a deliberate discussion with these experts by engaging them and asking questions. From the engagement, you will be able to find loopholes and confirm their authenticity before you sign a contract. Talks about SEO and websites, in general, will help you understand the method the selected professional plans to use. You can then analyse what you want to achieve, what you need and how you will achieve them.
After all this, it will be easier to understand the backlinks and keywords that are peculiar/important to your website as you can both influence the decision. Keywords, links, and contents on-off pages play a crucial role in ranking your website as well. Nonetheless, it is equally important that you do not relinquish your website to an expert; whose expertise could not be ascertained. Maintain a measure of control on your website and ask questions when you do not understand.
With an SEO expert, you have nothing to worry about, as he will be sure to explain things to you carefully. Contact 
Solsnet,
 employ the services of an expert, and watch your website gain more visibility.