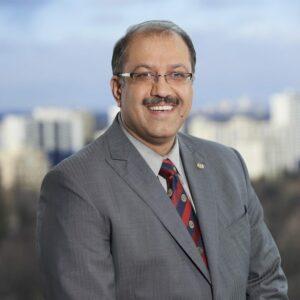 For this month's Candid Corner, we have Vice President, Portfolio Manager Generation PMCA Corp. Badar Shamim with us. We started off by asking Badar to define himself in three words, to which he replied with; 'Determined, Compassionate and Strategic'. After this warm-up question we asked him, 'what made him choose the one thing that he is doing now', and his answer was; 'I start my day with a review of Asian/EU stock markets, and Canadian/ US market futures activity, rest of the day is spent reviewing the investment planning needs of our existing clients or prospects and staying in touch with portfolio management and account administration teams at the office.'
After this more professional question, we then asked Badar about how he normally spends his day, and he said; 'I start my day with a review of Asian/EU stock markets, and Canadian/US market futures activity, rest of the day is spent reviewing the investment planning needs of our existing clients or prospects and staying in touch with portfolio management and account administration teams at the office.'
We moved on with our conversation by asking what he likes to do when he's not doing his routine job, and he answered; 'I enjoy volunteering for Rotary Club of Brampton and Brampton Board of Trade, and serving as a Director of Canada Turkey Business Council'. We then asked him to tell us about the best part of his work, and he tells us, 'Seeing my clients meet their investment needs over the course of their investment time horizon.' We further asked about his definition of happiness, to which he answered; 'being content with what God has blessed you with and enjoying it.'
We then played a rapid-fire round with him. He impressed us with his quick wit and presence of mind. Have a look at our quick conversation with him that we thoroughly enjoyed:
Who is your inspiration/role model?
My Finance Professor at Brock U, Dr. Don Cyr, and Warren Buffett
What is your favorite holiday spot/food/gadget?
It will have to be Istanbul, I love the mix of old world and new world you find in Istanbul, grilled Pakistani meat dishes, iPhone.
What did you think you were going to be when you grew up?
I always wanted to be a Portfolio Manager.
What lessons has your work life taught you?
Consistency and efforts pay off. Sometimes it takes longer than you expect but it always pays off.
How COVID-19 impacted your business and how did you cope with it?Luckily capital markets have recovered from the initial shock, so working from home instead of the office is the biggest difference. I don't miss sitting on Hwy 401.
After this amazing and lively session, we thanked Badar for taking time out to talk to us. We hope that you enjoyed reading about yet another personality's personal life. Hope you'd enjoy our next sitting too, until then, CIAO!