For many, the phrase itself may be telling and self-explanatory: the management of a brand. But before we dig deeper into this imperative function of marketing, let us ask ourselves a more basic question: what is a brand?
A brand is how a company distinguishes its products or services from others. A brand can be a word, name, logo, mark, or a combination of one or more of these elements; the goal is to create a distinguishable identity in a competitive market. But creating a brand is just the beginning of a longer and more challenging process, i.e. brand management.
So, in essence, brand management is a marketing component that involves maintaining and improving the perception and value of a product line or brand using certain techniques. When done right, brand management provides cost leverage, upturns customer loyalty, and builds meaningful brand awareness.
Principles of Brand Management
If a business is a tree, a brand is its leaves and branches that bloom with the growing business. It's a living, breathing thing that needs to evolve with the business and environment. At the same time, it needs proper care and nurturing to keep growing and producing yields.
But, a number of external factors – e.g. news, events, and trends – can adversely impact the image and thus the business of a brand. Today, managing a brand may be much harder than before, as journalists, influencers, and social media users can make or break your brand's perception in an instant. Besides creating strong brand awareness and association, constant monitoring of the image and narrative they've built over time is a big challenge for today's brand managers.
As the brands must adapt to the changing times as well as their growth, there are certain principles of brand management that you absolutely need to know to effectively perform this crucial function.
Brand Equity
Brand equity is all about creating a brand's value through reputation and perception. In other words, brand equity is how a user of your product or service values your brand based on their first-hand experience, association, and perception.
Greater brand equity means a higher base of loyal customers, which, in turn, gives the brand cost leverage; a loyal customer will be willing to pay more for the brand compared to a generic product/service with a lower price point.

Brand Recognition
Brand recognition is all about how easily a potential consumer can recognize your brand without hearing or seeing its name. Brand recognition is achieved typically through visual elements like your logo, color scheme, tagline, packaging, etc, or audio elements like music or jingle. Just like we know a Coke when we see one, regardless of what name is on the label. Similarly, we know it's Netflix by its "ta-dum" opening music without having to see anything.
With brand recognition goes brand recall hand-in-hand. This is how a consumer thinks of your brand even without hearing or seeing a branding prompt. In certain situations, consumers tend to recall your brand without even seeing or hearing anything about it, thus showing the strong brand association that your brand management efforts have resulted in.
Brand Loyalty
Brand loyalty is how devoted a customer is to your brand over other, possibly better and cheaper, competitors. Although brand loyalty is only achieved over time through sustained product/service quality, customer satisfaction, and relationship building, brand loyalty isn't customer loyalty where the customer prefers your product because of its specific quality.
Brand loyalty is when a customer buys your product/service based solely on his/her loyalty to your brand. Imagine yourself needing the new car tires and choosing Goodyear, not because of the product quality, but because of the company's dedication to customers and your personal experiences with the brand.
Steps to Successful Brand Management
Hardly any successful brand is created by chance. No matter if you are running a small or large company, how you manage your brand is what governs its growth. Some of the steps to successful brand management are discussed below:
Knowledge
It goes without saying that no business can be run or brand managed without an in-depth knowledge of the target market, competition, consumer behavior, and current trends. On top of it is how clear you are about your own vision and goals. It's basically knowing exactly where you want to take your brand and how in the current business environment.
Insight
No business strategy can work without you having deep market insights. For your marketing and branding activities to be well-coordinated and your long- and short-term business plans to be effective, you will need to know your market inside-out. If you're on top of your customers' evolving needs, and the ways they're presently served by other market players, you're in a position to win the game.
Analysis
No brand management strategy can be effective without you being able to analyze the results of your specific business moves. You must always keep a clear track of how the brand performed earlier and what changes your new plan is bringing. Timely, frequent, and smart analyses of your brand performance can help you devise tactical marketing initiatives to drive your brand's success.
Assets
Assets are tangible components of your brand; the components that your customers can see, hear, and experience. This may include every single piece of marketing and advertising your consumers may come across. From your brand name to your logo and colour schemes, and from typography to graphics, everything must fall into place to support your brand management initiatives and goals.
What are Branding Strategies?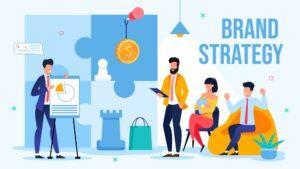 So, in the fast-evolving world of today, employing a basic brand management strategy is not enough; you constantly need to revamp your ideas to better align your brand management strategies to these fast-changing times. Some of these strategies are discussed below:
Develop a unique selling proposition
No matter what your product or service, chances are it's not truly unique. There's already enough competition in your niche market that distinguishing your brand from others, and making people choose your brand instead of the others, comes as a huge challenge for brand managers. This is where developing your unique selling proposition comes in handy.
Evaluation is where the game starts
You always begin a brand management project with the evaluation of certain brand elements. But as opposed to the common belief that the brand management process starts and ends with an evaluation, this crucial step is just the beginning of the long-term initiative. So, all core brand management plans must be complemented by plans for future re-evaluation for sustained brand positioning.
Pay close attention to brand assets
Your brand assets include semantics like your logo, taglines/slogans, visual elements like logo, color scheme, packaging, audio elements like music/jingles, and digital assets like website, social media pages, etc. These assets are the channels you use to associate with your existing or potential consumers, so they must be well-researched to be recognizable to your target audience.
Evaluate your capacity
Before embarking on a brand management initiative, always see if you have the capacity to do it. For businesses, this means the time and budget they can spare for the brand management functions. For a rand manager, this means gauging how well they or their teams are prepared and equipped to draw the desired results. Under-resourced individuals or companies can always outsource one or more of the tasks to meet targets and deadlines.
What is Brand Management in Marketing?
As discussed at the beginning of this piece, brand management is one of the core functions of marketing that involves creating or maintaining brand awareness, brand reputation, brand perception, and brand loyalty, while ensuring consistent growth of the business.
This is done in a variety of ways including the development of brand assets, running paid campaigns, capturing top places in organic searches, engaging customer service teams, and keeping a vigilant eye on what people are saying or sharing about the brand.
What is the Difference between Marketing and Brand Management?
Both brand management and marketing play a crucial role in the development and success of a brand. For many, the two concepts often tend to overlap and create confusion and misunderstanding.
Marketing only handles individual campaigns that promote a brand and generate engagement. Brand management, on the other hand, manages all aspects of brand development and execution. From profits and losses to product development decisions, brand managers are responsible for all.
Be it sales, logistics, consumer insights, public relations, communications, or research & developments, all functions are coordinated by brand managers. In other words, they are the strategic heads that see the big picture and direct teams accordingly.

What is a Brand Manager?
A brand manager is a person who is responsible to manage a certain brand. As discussed above, brand managers are tasked with maintaining a consistent brand identity and ensuring that the product/service and all its assets, communication, sub-brands, etc., are always aligned with the desired branding goals.
Brand managers coordinate with different teams and departments, providing them with materials research, guidelines, and strategies to build and maintain a solid and lasting market repute. From digital collateral to physical products, and from human interactions to product/service monitoring, brand managers do it all.
What does a Brand Manager do?
A typical job description of a brand manager will require candidates to be able to maintain every aspect of a brand, that is being responsible for the overall brand image and ensuring all branding elements and functions are well-coordinated and aligned to yield productive results.
Brand managers are required to stay on top of the industry trends, be watchful of the niche market and competition, and create and execute effective marketing campaigns to uphold the brand image and drive sales and growth.
So, besides defining the brand and finding an audience, the brand manager is also expected to build and solidify the brand's association with the customers by using the full marketing mix available at their disposal to accomplish the desired targets. Once the audience and targets are defined, budgets are earmarked to be spent across the marketing mix.
How to become a Brand Manager?
Now that you know what brand management is, who a brand manager is, and what's expected of him, you are in a better position to understand your role as a brand manager. Now, if you aspire to become a brand manager yourself, here are a few things to consider.
Some of the essential skills you'll require to become a brand manager include strategic creativity, strong written and verbal communication, adaptability, proactive approach, good judgment, ability to comprehend and forecast trends, and the ability to research and translate findings.
Some of the best-suited education paths for brand management aspirants may include marketing, advertising, and PR, among others. Good business studies usually have a curriculum that equips students with the right skills and knowledge required to excel in the fields of advertising and marketing.
Is Brand Management a Good Career?
Brand management is not easy. Especially those who are more comfortable working from their desks in isolation would make a bad fit for the brand management career. Enter the field only if you're 100% convinced of your ability to juggle multiple tasks at one time and take responsibility for all discussed brand management functions in their entirety.
Multitasking, leadership, and perseverance will make you a good brand manager. If you have these attributes, you can not only land a good brand management job but also excel in the field. The career path in brand management typically includes the positions of assistant brand manager, associate brand manager, brand manager, and senior brand manager.
From there, you can progress to director or even senior management level positions. Compensation-wise too, brand management is a fulfilling career. Besides, the success of the brand you're managing will speak volumes of your capability to turn a product/service into a true brand.
A Well-Managed Brand is a Successful One
Well, it may sound like re-stating the obvious, but it's the management of a brand that determines its success. A single loophole in any function of the multi-faceted job tends to make the project lose its efficacy, exposing the brand to unforeseen risks. It's the brands that have a powerful influence on the existence and growth of a company, so their management must never fall into the wrong hands.
Through effective brand management, brands achieve their equity, recognition, perception, and loyalty. All this translates into growth of the brand which, in turn, causes the company to see upward trends on its business charts. It can take many years to build a brand and when it finally happens, constant innovation and creativity are required to keep it afloat and growing.
The success in the career of brand management is determined by innovation and market insight on part of the brand manager. A brand manager who not only understands the brand, its niche market, and developing and projected trends, and can identify market gaps and opportunities is a brand manager worth his/her salt and can take the brand to new heights.